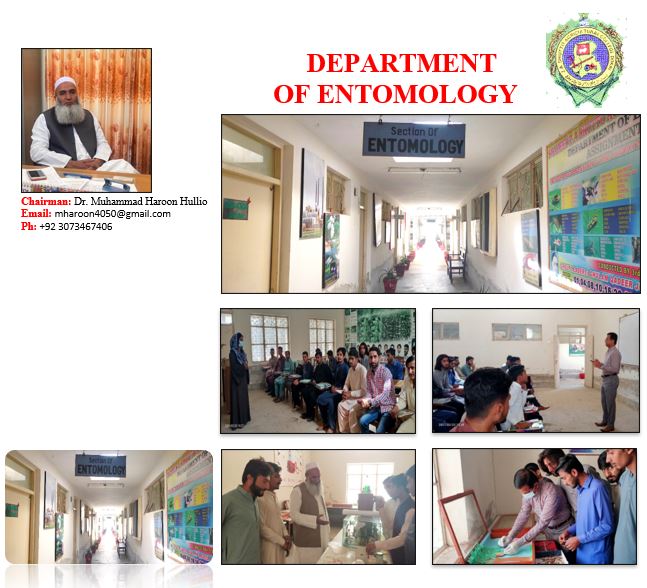 INTRODUCTION
The Department of Entomology was established in 1991. Department offers a 4-year B.Sc. (Agri.) Hons degree in Entomology. The Department consists 05 subject experts from which 03 PhD teachers are professionally skilled in the field of Entomology. The department has all basic facilities of teaching such as class rooms, research laboratory, Insect Museum, experimental field and departmental library. The Department is actively involved in basic and applied research and provides free agricultural services to the farming community and organizes short courses, trainings/ workshops for farmers, students and research workers.
MISSION STATEMENT
To achieve the highest standards in teaching, learning and research related to insect pests, weeds and diseases of crops and to advance and disseminate the knowledge in crop protection to all the stakeholders in agriculture, especially the farmers with emphasis on non-chemical management methods including biological, mechanical and cultural control.
JOB OPPORTUNITIES
Graduates from this Department can find employment in Academic, Provincial as well as Federal Government Sectors Including Agri. Extension, Research, PARC, PAEC (NIAB, NIBGE, NIFA, NIA), SUPARCO, PCCC, Pakistan Science Foundation (PSF), Pakistan Museum of Natural History (PMNH), FSC&RD (Federal Seed Certification & Registration), Federal Plant Protection/Plant Quarantine, Banks, Rural Support Programs (RSPs), NGOs working in Agriculture and Rural Development and Private Pesticides Companies etc. They also can start their career through self-employment, as Plant Clinicians, Advisers / Consultants, Pesticide Dealers and by starting mushroom cultivation.
COURSES OFFORED
CODE                        TITLE OF COURSE                                   CREDIT HOURS
SEMESTER-I
ENT-301                     Introductory Entomology                                                 3(2+1)
SEMESTER-IV
ENT-402                     Applied entomology                                                          3(2+1)
SEMESTER-V
ENT-501                     Insect Morphology                                                             3(2+1)
ENT-503                     Principles of Insect Taxonomy                                        3(2+1)
ENT-505                     Insect Ecology                                                                     3(2+1)
ENT-507                     Integrated Pest Management                                           3(2+1)
ENT-509                     Insect Behavior                                                                   3(2+1)
STAT-511                   Elementary Statistics                                                          3(2+1)
SEMESTER-VI
ENT-502                     Insect Physiology                                                               3(2+1)
ENT-504                     Rang and Forest Entomology                                          3(2+1)
ENT-506                     Insect Classification and Biodiversity                           3(2+1)
ENT-508                     Insect Pests of Household man and animal                3(2+1)
CP-510                        General Biochemistry                                                     3(2+1)
SEMESTER-VII
ENT-601                     Stored Product Pests and their Management              3(2+1)
ENT-603                     Plant Resistance to Insect Pests                                     3(2+1)
ENT-605                     Insecticides and their application                                 3(2+1)
ENT-607                     Agriculture and Environmental Pollution                    3(2+1)
ENT (SUPP)-611        Insecticides and Public Health (Minor)                       3(2+1)
SEMESTER-VIII
ENT-602                     Biological control of Insect Pests and Weeds             2(2+0)
ENT-604                     Acarology                                                                           3(2+1)
ENT-606                     Scientific writing and Presentation                              2(1+1)
ENT-610                     Internship / Research Project                                        4(0+4)