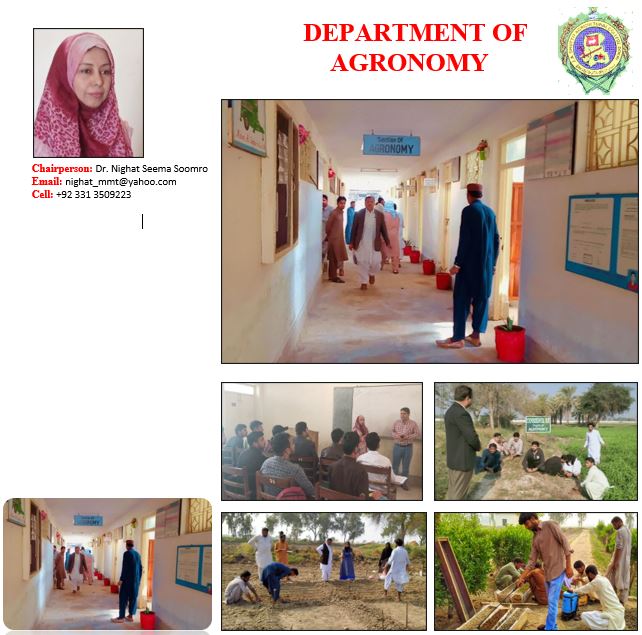 INTRODUCTION
The Department of Agronomy was established in 1993. The Department is engaged in developing trained human resource base in crop production, conduct basic and applied research in various aspects of field crop production and soil management under varying agro-ecological and socio-economic conditions of the farming community. The Department of Agronomy has been offering B. Sc. (Agri.) Hons. Since the inception of SZABAC Dokri. Department of Agronomy has produced numbers of young professionals so for and many of them are currently working leading institutes of the country.
MISSION STATEMENT
To educate and train the students of Agronomy by teaching various courses of Agronomy, conducting high caliber research and development and adoption of innovative technologies. To share out the knowledge and skill to students as well as to those who are involved in crop production. Our vision is to provide the quality education, supply the recent development material in production technology. Teaching through classroom lectures presentations, field assignments and practical field training. Identify technical and socio economic issue of areas concerning farm productivity and to seek appropriate solution to overcome them.
JOB OPPORTUNITIES
Graduates from this Department can find employment in Seed, fertilizer, pesticide companies, CDAs, banks, public and private sectors, NGOs, government Departments, etc.
COURSES OFFORED
CODE TITLE OF COURSE CREDIT HOURS
SEMESTER-I
AGR-301 Basic Agriculture                                                  3(2+1)
SEMESTER-II
AGR-302 Field Crop Production-I                                    3(2+1)
SEMESTER-IV
AGR-402 Field Crop Production-II                                  3(2+1)
SEMESTER-V
AGR-501 Arid and Rainfed Agriculture 
AGR-503 Agro-Technology of Major Crops                    3(2+1)
AGR-505 Field Crop Physiology 3(2+1)
AGR-507 Introduction to Crop Modeling                       3(2+1)
AGR-509 Seed Production Technology                           3(2+1)
STAT-511 Elementary Statistics                                        3(2+1)
SEMESTER-VI
AGR-502 Farm Record Maintenance                            3(2+1)
AGR-504 Principles of Weed Science)                          3(2+1)
AGR-506 Plant Nutrients and Growth Regulators    3(2+1)
AGR-508 Medicinal and Special Crops                        3(2+1)
CP-510 General Biochemistry                                        3(2+1)
SEMESTER-VII
AGR-601 Research and Scientific Writing         3(2+1)
AGR-603 Irrigation Agronomy                            3(2+1)
AGR-605 Forage and Fodder Production 
AGR-607 Production Technology of Condiments and Spices    3(2+1)
AGR-611 Environment and Crop Production    (SUPPT)            3(2+1)
SEMESTER-VIII
AGR-602 Agro Ecology                                                                     3(2+1)
AGR-604 Conservation Agronomy                                                  3(2+1)
AGR-606 Organic Farming                                                                3(2+1)
AGR-610 Internship                                                                            3(2+1)