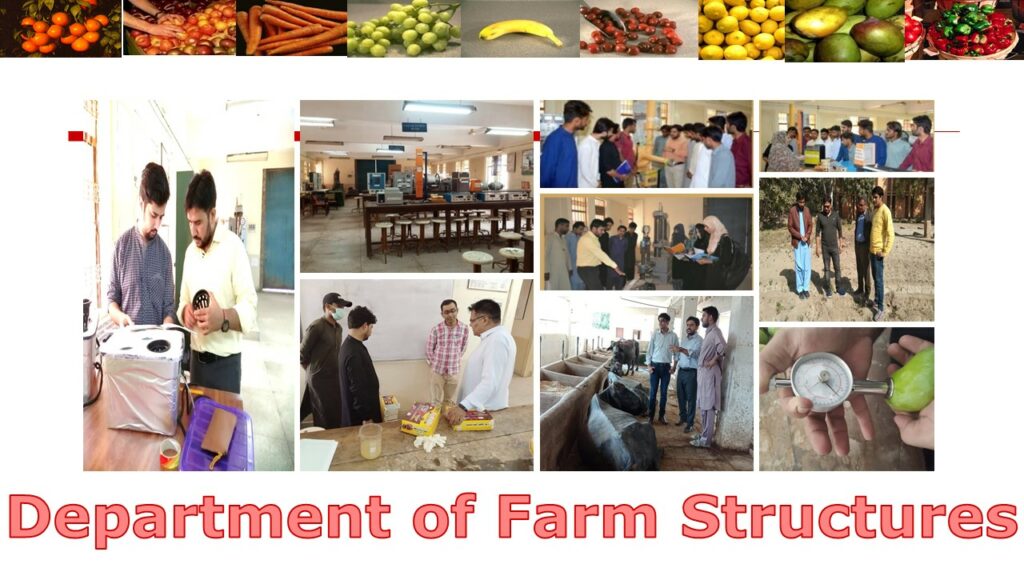 The Department of Farm Structures applies the principals of Farm Structures, Post-Harvesting as well as Processing in Agriculture and Basic Rural Electrification Engineering Science and Technology for enhancement of Agricultural production and for advancement of Design and structural engineering used in Agricultural Farms, Agri: processing technologies and Basic knowledge about rural electrification. The Department of Farm Structures was established in 1977 at the Faculty of Agricultural Engineering, Sindh Agriculture University, Tandojam. The department is offering courses of engineering studies leading to the degrees of Bachelor of Engineering (Agriculture), Master of Engineering as well as Ph.D. in Farm Structures and Agriculture Processing Engineering Disciplines. These degree programmes focus on the fundamental engineering courses as approved by the Higher Education Commission (HEC) with emphasis on Modern storage structures, farm building structures, control sheds, increasing shelf-life of Agriculture products, associated issues, and their solutions.
This field of study emphasizes research on appreciate structures for the storage of agricultural produce, structures for agricultural machinery and equipments, structures for the animal livestock and structures where the environment is specifically controlled to enhanced animal comfort and increase productivity in agricultural practices.
The Department of Farm Structures also offers Farmers advising services (extension services) to farmers, small-scale processors, Self Help Groups in processes, new product development, and demonstrations of Food Processing Machinery and Equipment. Additionally, the Department of Farm Structures offers consulting services and conducts evaluations of various processing equipment for equipment manufacturers.
The mission of department is to produce the technical as well as skilled persons for the society in general and to benefit the individual end users in particular field. In the last year, the department of Farm Structures produced 02 postgraduate students who completed their M.E degrees.