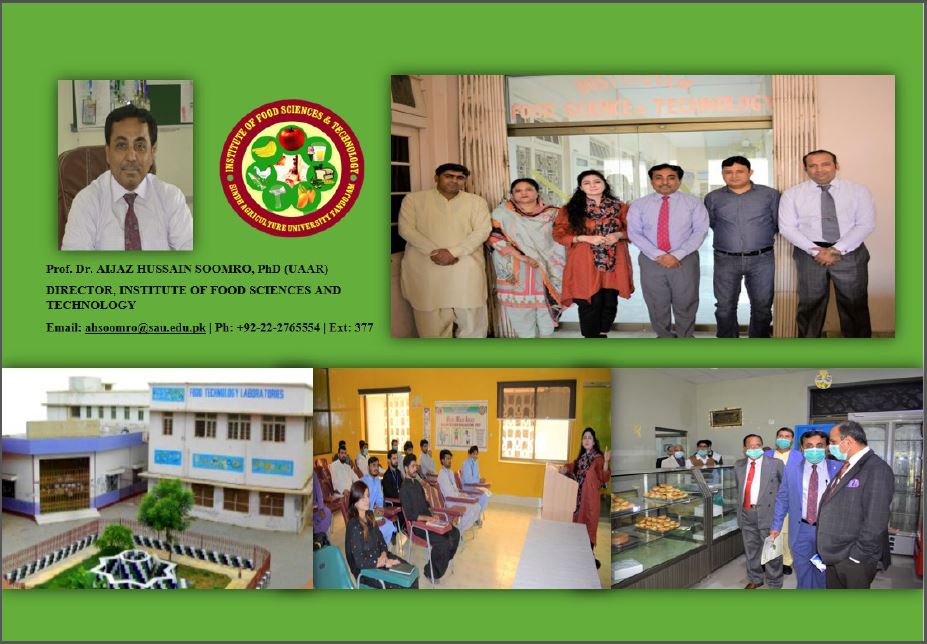 The Institute of Food Sciences and Technology was established in April 2007 through the up-gradation of department of Food Technology, which was commenced in the year 1996 and initiated its academic activities in the year 1998. The establishment of the Institute of Food Sciences and Technology brought measurable enhancements in the level of quality education and research in food related fields. At present, the Institute offers four years B.Sc (Hons.) degree in Food Sciences and Technology and is imparting educational program similar to all food technology departments / institutes of the country through a uniform curriculum as per policy of Higher Education Commission.
Mission Statement
Institute of Food Science & Technology is committed to provide an academic training and selection preservation, processing, packaging, distribution and use of safe nutritious and wholesome food and dairy products, and shall continually improve its attentiveness by system implementation.
Objectives
To impart quality education to train manpower in the field of Food Technology to meet the demand of growers & food industries.
To conduct research on various aspects of Food Sciences and Technology.
To train rural masses for poverty alleviation.
Develop technologies to reduce post harvest losses of fruits and vegetables.
Facilities
The Institute of Food Sciences & Technology has established seven hi-tech laboratories viz. Food Analysis, Postharvest Technology, Food Microbiology, New Food Product Development, Cereal/Bakery Technology and Freezing, Drying & Dehydration. Each laboratory is equipped with advanced (e.g. GC-MS, HPLC, AAS) and common use instrumentation to carry on the relevant tasks. In addition to this, the Institute has two walk-in type cold storage units, one beverage unit; one juice treatment plant and one canning unit for teaching, research and conduct of trainings. Other facilities include a computer laboratory with internet facility and a well established library where students can explore their research material and interact with other researchers' in their relevant fields. The Institute has established strong linkages with different food industries such as National Food Karachi, Wazir Ali Oil Industry, Hyderabad, Dawn Bread Hyderabad, Pakistan Beverages Hyderabad, Popular Food Industry Tando Adam, Candy land and Cadbury Hub for conduct of mutually agreed trainings, research, and strengthening of practical capacity of students & industry personnel. The Institute also has a strong post graduate program offering courses and facilities for research up to Ph.D level.
Job Opportunities
In Pakistan, there is a vast potential for food technology graduates to be self-reliant by establishing small food units such as bakery unit, beverage production unit, juices/squash preparation unit, pickles etc. Apart from small individual establishment business, there is a need of food sciences & technology graduates in different food industries of the country such as bread baking companies, national food companies, oil and beverage industries, fruit processor exporters, government organizations such as Sindh Horticulture Research Institute Mirpurkhas, Nuclear Institute of Agriculture, universities, private and semi government companies, Banks, Agriculture Research Institutes, etc.
ISO Certification
The Institute of Food Sciences & Technology has been certified as International standardized Organization (ISO 9001-2015).