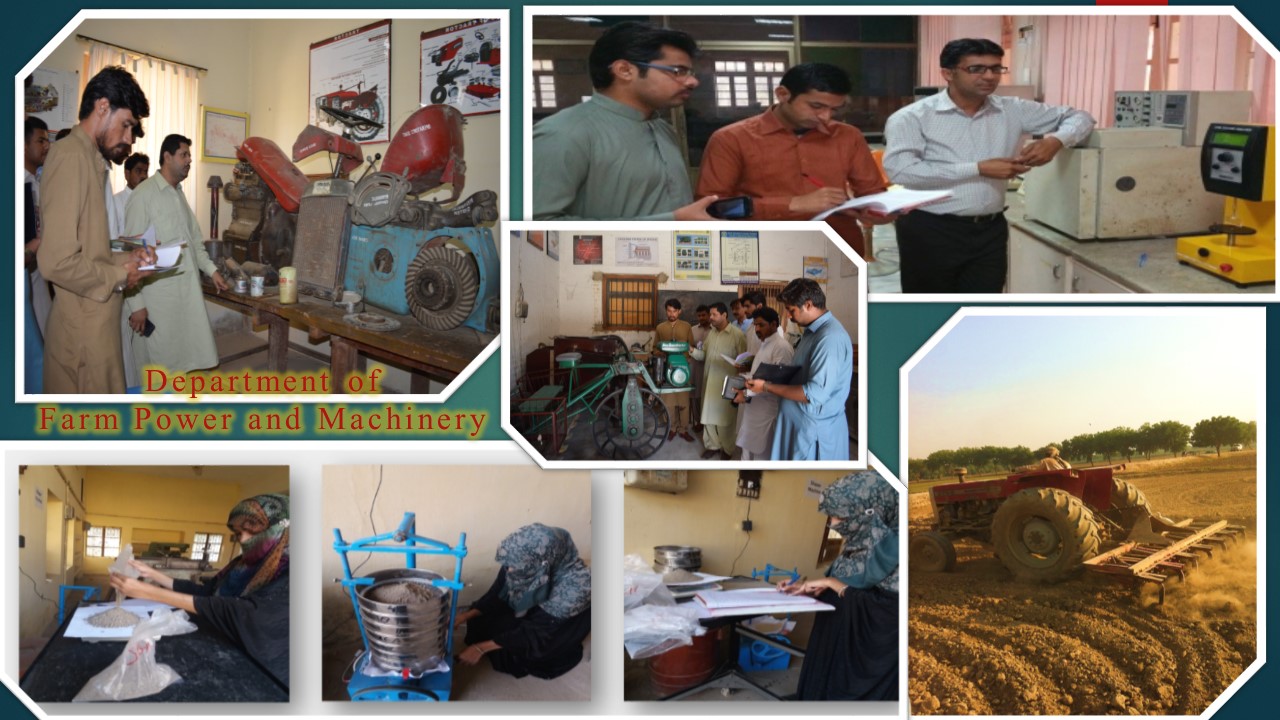 The trend of establishment of Sindh Agriculture University, Tandojam shows that the department of Farm Power and Machinery has old history traced back to the origin of agricultural college. During college era (1958-1976) this department under the name of department of Agricultural Engineering was one of the major departments of Agricultural College imparting the engineering knowledge to the under graduates together with minor repair work of college transport. After the establishment of Sindh Agriculture University, Tandojam (1977), this department was merged and included into the faculty of Agricultural Engineering with the present name and nomenclature. The Department of Farm Power and Machinery is one of the major departments in the faculty to cater the manpower needs of Sindh and Baluchistan. It offers graduate and postgraduate degree programs since its inception. Initially, it offered M.Sc. (Hons.) in Farm Mechanization. Later on, it started offering M.E. (Farm Power and Machinery) and Ph.D degree programs to graduates having B.E (Agri.) and B.E. (Mech.) degrees. The department has highly qualified faculty as well as modern and well-equipped laboratories in a beautifully decorated engineering workshop. The vision of the department is to become a center of excellence in farm mechanization by imparting high quality education to the agriculture engineering graduates through world class teaching, innovative research, and collaboration with industries. To provide knowledge and expertise to graduates in the design, development, modification, testing, evaluation and promotion of low-cost farm machines, testing and evaluation of imported as well as locally produced farm machines, proper selection and efficient utilization of farm machines for various farm activities, advancement and dissemination of farm mechanization technologies and provision of technical assistance to local farm machinery industries and farmers. Engineering Workshop provides a right path with scientific environment for conducting various teaching and research activities. The workshop consists of different shops and laboratories for practical and research work. Apart from this the workshop also provides the facilities for the construction, repair and maintenance of technical tools as well as accessories for conducting research in the area of farm mechanization and its allied disciplines. The shops and laboratories with their prime objective and equipments are given in following table:
Farm Power Laboratory
Objectives
Demonstration of engine, its parts and working principles of engines, power transmission systems, various engines systems, testing of various engine parts.
Major Equipments
Two stroke engine model, four stroke petrol engine model, four stroke diesel engine model, electric operated transparent petrol engine model, electric operated transparent diesel engine models, turbo engine model, various engine parts, testing Equipments of various engine parts and systems.
Farm Machinery Laboratory
Objectives
To conduct the research and demonstration of various farm machines.
Major Equipments
Tractors, Moldboard plow, Disc Plow, Sub-soiler, Rotavator, Cultivators, Disk Harrows, Front blades, Levelers, rear blades, Front loader, Potato planter, Cotton Planter, Rice Planter, Sugar Cane planter, seed drill, Fertilizer distributor, Fertilizer spreader, Fertilizer duster, FYM spreader, Cotton picker, Wheat reaper, Kubota self-propelled wheat reaper, Combine harvester, Silage cutter, Stalk cutter, Straw cutter, hay baller, lawn movers and multi-purpose seed drill etc.
Machine Shop
Objectives
Infrastructure Facilities for teaching and research
Major Equipments
Lathe machine, milling machine, shaper machine, electric bench drill, hydraulic press, mechanical hacksaw
Smithy Shop
Objectives
To conduct practicals on welding, folding, pressing and cutting of metals.
Major Equipments
Electric arc welding, gas welding, spot welding, mechanical press, manual rolling machines, sheet cutters, mechanical hacksaw and furnace
Drawing Hall
Objectives
To conduct the practicals of engineering drawing and machine design
Major Equipments
Drawing boards, drafting machine, overhead projector, instrument boxes, various types of scales, set squares, T- squares and other instruments.
Tractor garage/ Mechanical Shop
Objectives
Repair and maintenance of tractors and various engines components
Major Equipments
Different types of hand tools for repair and maintenance of tractors
Carpentry Shop
Objectives
Wood works, repair and maintenance of wood items
Major Equipments
Wooden lathe, planners, various types of wood saw, chisels, pliers, files and different wooden tools.