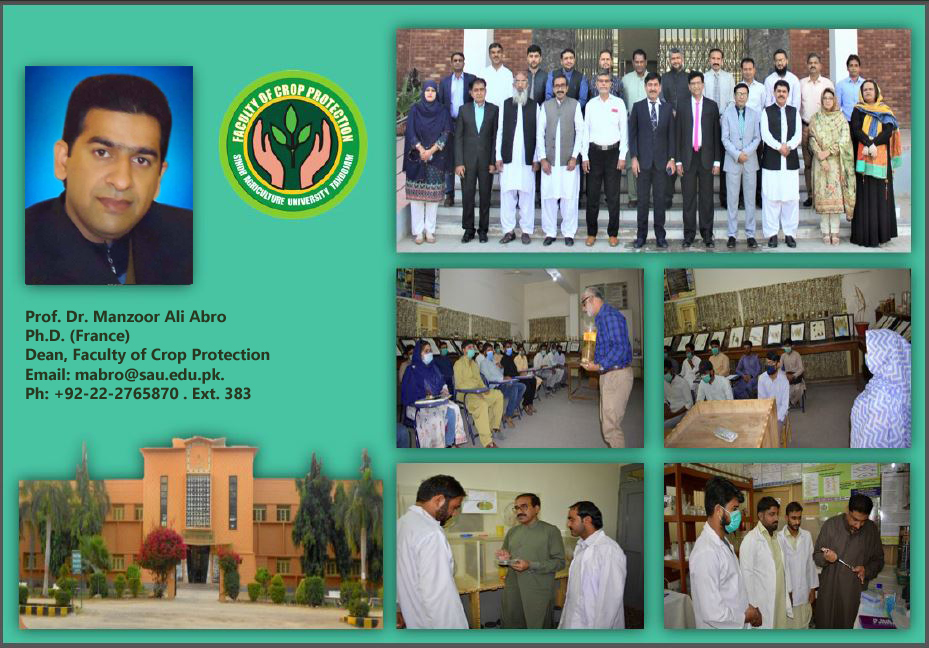 The need for new approaches in agricultural teachings aimed to reduce yield losses in crops due to insect pests, plant diseases and weeds was felt at the time of up gradation of former Agriculture College to Sindh Agriculture University, Tandojam in 1977. This was eventually translated into the establishment of the Faculty of Crop Protection in July, 1987. The teachings at this Faculty coordinate the work of Entomology, Plant Pathology, Weed Science and other Plant Protection components for imparting the technical know-how of producing healthy crops and addressing the day to day problems of farming community in the field of Crop Protection as a whole. The Faculty achieves this task through its three departments viz. Entomology, Plant Pathology and Plant Protection; offering course work leading to graduate and post­graduate degrees with special reference to identification and management of newly observed as well as the traditional insect pests, weeds and diseases of crops caused by fungi, bacteria, viruses and nematodes.
At present, the Faculty of Crop Protection offers a 4-year B.Sc. (Agri.) Hons., M.Sc. (Agri.) Hons. and PhD degree program in Entomology, Plant Pathology and Plant Protection. The faculty has all basic facilities of teaching and research including; Stored Grain Pests Research Laboratory, Insect Molecular Laboraotry, Insect Systematic Laboratory & Insect Museum, Insect Biological Control Laboratory, IPM Laboratory, Plant Diseases Diagnostic & Research Laboratory, Biocontrol Laboratory, which are moderately equipped.
To promote merit and healthy academic competition, the faculty awards various scholarships to needy and meritorious students at graduate and postgraduate levels through pesticide companies and various other government and non-government organizations, including HEC-USAID and HEC-Japanese need based scholarships.
Mission Statement
To achieve the highest standards in teaching, learning and research related to insect pests, weeds and diseases of crops and to advance and disseminate the knowledge in crop protection to all the stakeholders in agriculture, especially the farmers with emphasis on non-chemical management methods including biological, mechanical and cultural control.
Job Opportunities
Graduates from this Faculty can find employment in Academic, Provincial as well as Federal Government Sectors Including Agri. Extension, Research, PARC, PAEC (NIAB, NIBGE, NIFA, NIA), SUPARCO, PCCC, Pakistan Science Foundation (PSF), Pakistan Museum of Natural History (PMNH), FSC&RD (Federal Seed Certification & Registration), Federal Plant Protection/Plant Quarantine, Banks, Rural Support Programs (RSPs), NGOs working in Agriculture and Rural Development and Private Pesticides Companies etc. They also can start their career through self-employment, as Plant Clinicians, Advisers / Consultants, Pesticide Dealers and by starting mushroom cultivation.