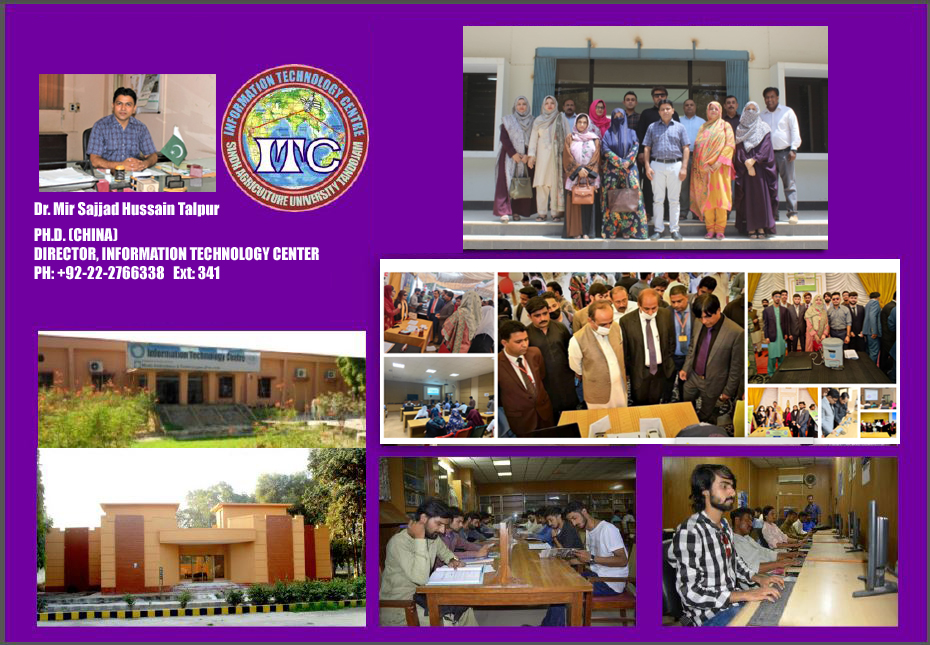 Background:
The Information Technology Centre (ITC) was established in 2002 at the Sindh Agriculture University Tandojam (SAU), Tandojam under a development project approved by the Government of Pakistan. ITC aims to impart quality education to the youth, prepare, and empower them for facing the future frontiers of the new millennium with the potential of rapidly advancing Information and Communication Technology (ICT). ICT plays an important role in the evolution of innovative solutions in all sectors including agriculture, health, education, governance, energy, environment, and transport. The centre produces skilled manpower that fills that gap of technical human resource in the region and beyond. Trained and skilled manpower is one of the most valuable resources contributing significantly to the socio-economic development of Pakistan's knowledge- and technology-driven economy aiming for achieving sustainable GDP growth and poverty alleviation.
ICT potential can be exploited for digital transformation of government and private sector using advanced technologies such as Cloud Platforms, IoT, Artificial Intelligence, Blockchain, and Virtual Reality. To bridge the huge gap of technical skills and technology incubation, the center offers state-of-the-art technology- based curriculum taught by experts having PhD qualifications from around the world. The skill-development and technology-transfer activities of the center are creating opportunities for youth through labour market intervention by providing research-oriented trainings, innovate solution development experience, academic-industry co-supervision, career counselling, internships, and job placement. The teaching methodologies and capacity-building activities are mainly hands-on, project-oriented, and teamwork-based for giving the students of undergraduate and masters programs, a real-world experience under the supervision of academic and industry experts.
Vision Statement of ITC:
Fosters an earnest passion for learning that inspires students to become creative contributors, engage in collaborative ties to the world around them and envisage needs and responsive through innovative solutions in support of the university's mission.
Mission Statement of ITC:
ITC aims to provide students with the knowledge and skills necessary to excel in the rapidly evolving field of technology. We are committed to fostering an environment of innovation and collaboration, and to staying current with the latest industry trends and advancements. Our goal is to empower students to become leaders in their field and to make a meaningful impact in the world through their work.
Job opportunities
The BSIT program at ITC educates students with the fundamental abilities to design and implement software applications and works on networks and web design. It also provides opportunities to the graduates to get jobs in the development sector on various positions such as a office support Managers (word processing, spreadsheet, database and accounting), the intranet specialists, software engineer, network administrators, IT managers,  the Internet service provider experts and specialized professional software developers (multi-media, website development and Commerce), lecturers and instructors in IT.