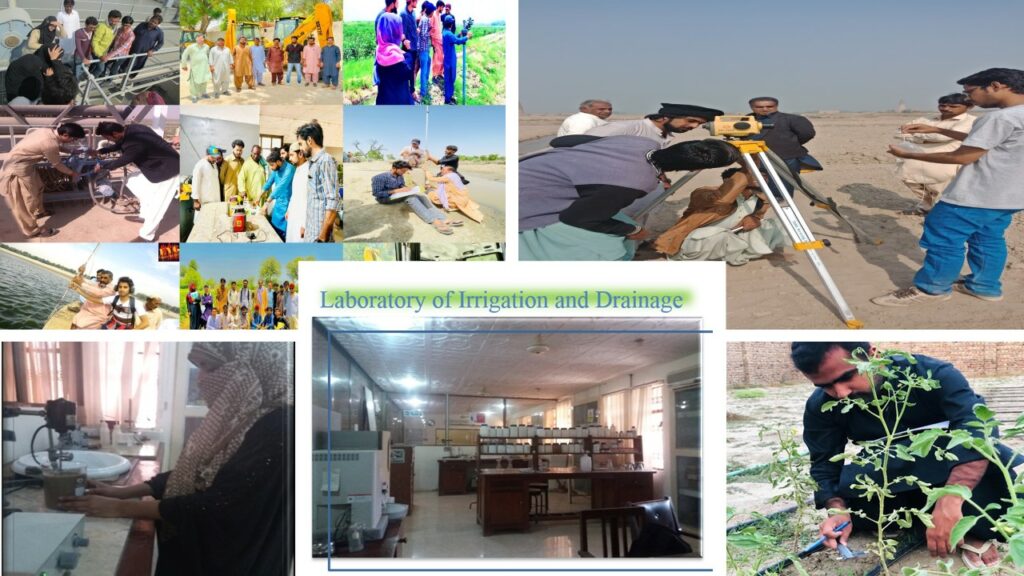 The reliable water supplies for irrigated agriculture are instrumental to feed the growing population in the developing countries including Pakistan. However, they are declining with each passing day; hence their efficient utilization and management is crucial for sustainable agriculture. The water resource, irrigation and drainage engineers are educated and trained to recognize the complex problems related to the planning, designing and utilizing the available water resources. This is only possible through better water application methods, conservation techniques, and water management practices. The government of Pakistan has been putting efforts to ensure water supplies for irrigated agriculture, industry and domestic purposes. During past 65 years, several mega projects were launched in the fields of irrigation, drainage and water resources engineering. Keeping in view the complexity of the water related problems, the Department of Irrigation and Drainage was established in 1977 under the umbrella of Faculty of Agricultural Engineering to produce young engineers and scientists in this field. Since then, it has remained as one of the foremost departments of the faculty. The department is actively involved in teaching and research activities at undergraduate levels. It contributes more than 30% of the courses in a composite graduate degree program. This department offers postgraduate degree programs of M.E and PhD in irrigation and drainage.
The department works for the refinement of vision and skills of graduate and postgraduate professionals with distinction in the field of irrigation, drainage, soil, and water resources engineering. Our aim is to produce young, generous, highly motivated, and talented professional engineers, who uphold and advance for the integrity, honour, dignity and development of their profession. They should understand the future water demands and offer better solutions using their skills and knowledge.
The department of irrigation and drainage is enriched with a well-qualified faculty who always strive to provide cutting-edge research opportunities that will place graduates at the forefront of new developments in engineering. The adequate classrooms established computer lab, well equipped soil, water and hydraulic engineering labs and departmental library provide conducive environment for learning. There is an experimental station to demonstrate and conduct field experiments located beside faculty building and at the Latif Farm.
To provide quality education and research for irrigated agriculture to provide it major input as water resources as well managed and sustainable commodity and to provide permanent solution against the threat of water logging and salinity by providing enhanced innovated research in field drainage. Resultantly to help the country by providing battery of engineers to contribute their expertise to enhance crop production by sustainable management of water resources.
To impart the knowledge of basic principles in the field of irrigation and drainage such as planning, designing and utilizing the available water resources judiciously through better water conservation techniques and improved water management practices and removal of surplus water and its safe disposal or its reuse to leading engineering graduates through well standard education at classrooms, laboratories, library and field farms in order to achieve sustainable agricultural production.