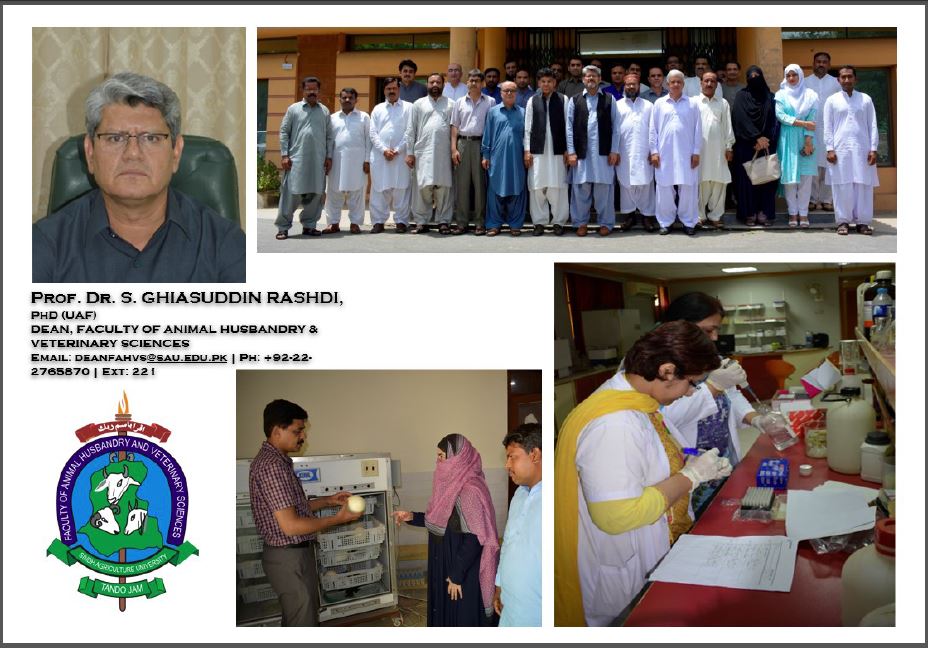 Faculty of Animal Husbandry and Veterinary Sciences is amongst the five faculties of Sindh Agriculture University, Tandojam. This faculty is located towards the eastern end of the main campus of the University on Hyderabad – Mirpurkhas Highway about 15 km to the South of Hyderabad city it was established in 1971, The faculty offers five-year Doctor of Veterinary Medicine (DVM), M.Phil and Ph.D. degree programs under term system through its 14 teaching departments in various disciplines related to animal and veterinary sciences. The faculty offers innovative teaching programs and new academic developments in small and large animal surgery, medicine, reproduction, nutrition and management. It also offers courses on domestic and wild animal diseases,   fisheries and aquaculture and animal product technologies. Well-equipped classrooms with state of art teaching infrastructure, air conditioned library with latest arrivals of textbooks and research journals, three veterinary clinics   (Teaching Hospitals) and livestock and poultry farms to provide hands-on experience.
Mission statement
To provide efficient veterinary and para-veterinary manpower and expertise for promoting the welfare of the total socio-economic spectrum of communities of Pakistan in general and the province of Sindh in particular by improving animal health, welfare, production and performance, veterinary public health and conservation of animal genetic resources.
Job Opportunities
The graduates have job opportunities in Poultry and livestock Institutes, Livestock and Dairy Development Departments, Biological Product Units, Poultry & livestock Extension Department, Disease Diagnostic Laboratories. Public and Private Universities, Animal Quarantine Department, Agriculture Development Bank of Pakistan (ADBP) and other Scheduled banks as Agriculture / Livestock / Poultry Credit Officer, and all other   government  jobs   through competitive examinations, beside this self-employment opportunity as a professional veterinarian.