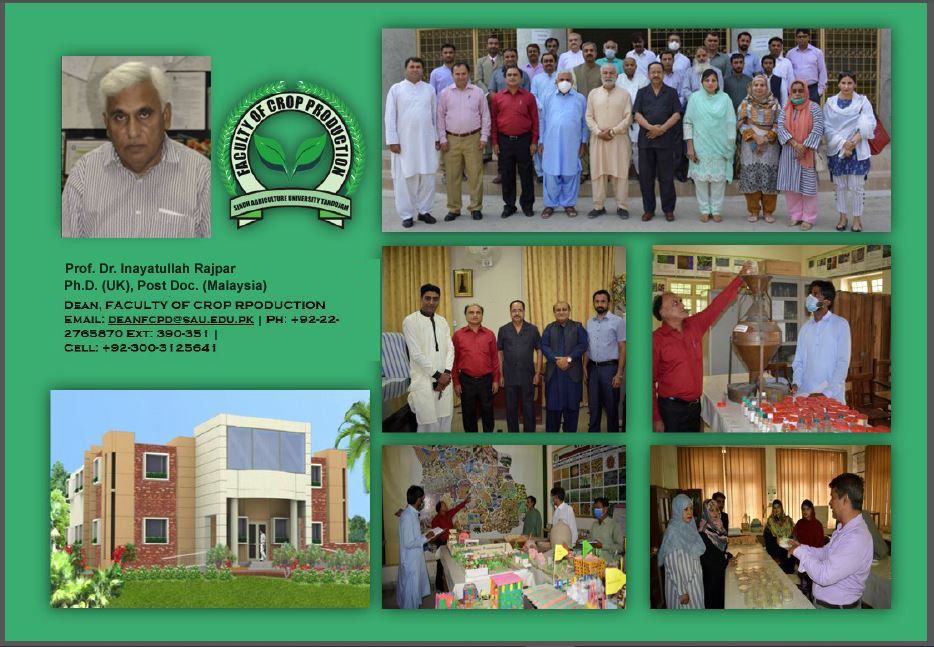 The faculty emerged as a result of bifurcation of the faculty of Agriculture in 1987. The restructuring was done to streamline academic and research activities and to effectively address the activities for sustainable crop productivity. As such, it is committed to academic excellence in graduate and postgraduate education and research in broad spectrum disciplines of agriculture. The faculty conducts diverse programs in education, research and service to nation and the community.
The Faculty happens to be the largest faculty of the university comprising Soil Science, Agronomy, Horticulture, Plant Breeding & Genetics, Biotechnology, Crop Physiology and Institute of Food Sciences & Technology. All departments and the institute offer both graduate and post-graduate degrees. The faculty imparts practical training to the students and enriches its research endeavors through experimental farms (Latif and Malir), advanced computer labs with internet facilities. The laboratory facilities possess basic and highly advanced equipments. An internship Program has been included in the new scheme of studies which is also a feather in its cap. The teaching staff is highly qualified and trained through local and overseas training programs. The faculty, over the time, has trained a large number of undergraduate and postgraduate students in various disciplines of agriculture.
Mission Statement
The graduates and postgraduates will have immense opportunities in various disciplines of agriculture and allied sciences in public and private sector organizations, autonomous and semi-autonomous bodies viz, Zarai Tarqiati Bank of Pakistan (ZTBP), Pakistan Agricultural Research Council (PARC), Pakistan Council for Research in Water Resources (PCRWR), WAPDA, Fruit .
Preservation and Food Industries. Their services can also be utilized in provincial and federal departments of Agricultural Extension, Research, Teaching, Forestry, Cooperatives, Pakistan Central Cotton Committee, Federal Seed Certification Department (FSCD), Public Parks and Gardens, Seed Corporations, EPA, SCARP, Sindh Sugar Corporation, Pakistan Atomic Energy Commission, and other public and private departments
Pakistan Broadcasting, other corporations and commercial banks, National Planning Commission, USAID, FAO, LEAD, Fertilizer Industries, National Talent Pool, INGOs and other NGOs, Agriculture consultancy firms are some of the alternatives, where they can excel with the talent they have harnessed.
The Faculty of Crop Production is committed to the preparation of students for life in the global community through research and educational programs for supporting sustainable agriculture systems that foster viable communities, a diversified economy, and a healthy living environment
Job Opportunities
Seed, fertilizer, pesticide companies, CDAs, banks, public and private sectors, NGOs, Government departments, Agriculture Research, Agriculture Extension, Universities, etc.