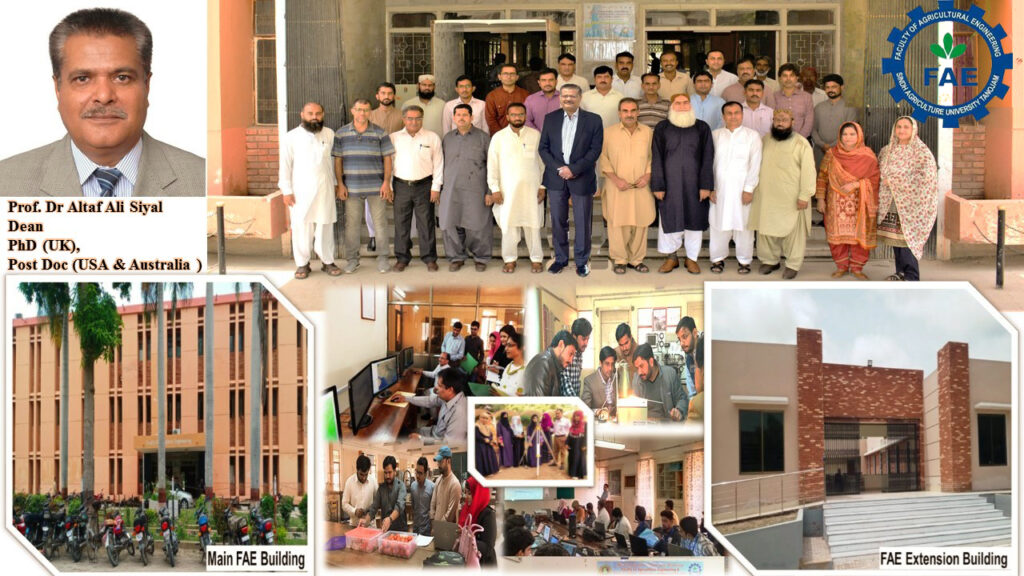 The Faculty of Agricultural Engineering is among the five faculties of Sindh Agriculture University Tandojam. Initially, it started as a Department of Agricultural Engineering of the defunct Sindh Agriculture College Tandojam in 1955. The department was upgraded into a full-fledged Faculty of Agricultural Engineering in 1977. Faculty has played a leading role in providing engineering solutions to agricultural problems and is devoted to meet the needs of people of Sindh in particular and Pakistan in general. Its primary goal is to take leading role in the promotion of technological changes and their management for sustainable agricultural development in the province of Sindh through high level education, research and outreach activities by integrating technology, planning and management. The dissemination of quality education, research and training with special emphasis on interdisciplinary interface among the technological and educational expertise is the main focus of the faculty.
At present, the faculty offers a four year B.E. (Agri) degree program. The program provides a fundamental understanding of the natural, basic and engineering sciences and their application to design devices and processes in any general area. A permutation of courses caters to the design and engineering aspects related to agriculture. The focus span starts with basic principles of engineering themes like irrigation systems, soil and water management, farm machinery, farm structures, environment, energy and resource management to ultramodern geographic information systems (GIS), remote sensing (RS), electronics and instrumentation applications related to the agriculture. M.E., M.Phil. and Ph.D. degree programs are also offered in various disciplines including irrigation and drainage, land and water management, farm machinery, energy and environment, and farm structures. Besides teaching, the faculty is actively engaged in extension and leading-edge research. The regular professional education and research activities are carried out in the six integral departments as under:
Irrigation and Drainage
Farm Power and Machinery
Land and Water Management
Farm Structures
Energy and Environment
Basic Engineering
The Faculty of Agricultural Engineering strives to attain excellence in teaching and research, where students are urged to excel in qualification and competency with basic and applied research as well as technology transfer and outreach activities including consultancy. The faculty has highly qualified teaching staff with well-equipped laboratories, workshop facilities, field experimental area, library, computer lab, auditorium and seminar hall. Graduates of the faculty are registered with Pakistan Engineering Council as Professional Engineers. The B.E. (Agri.) degree holders are eligible to be appointed as Professional Engineers in the engineering related fields. They are capable to undertake any professional engineering task in the field of Agricultural Engineering.