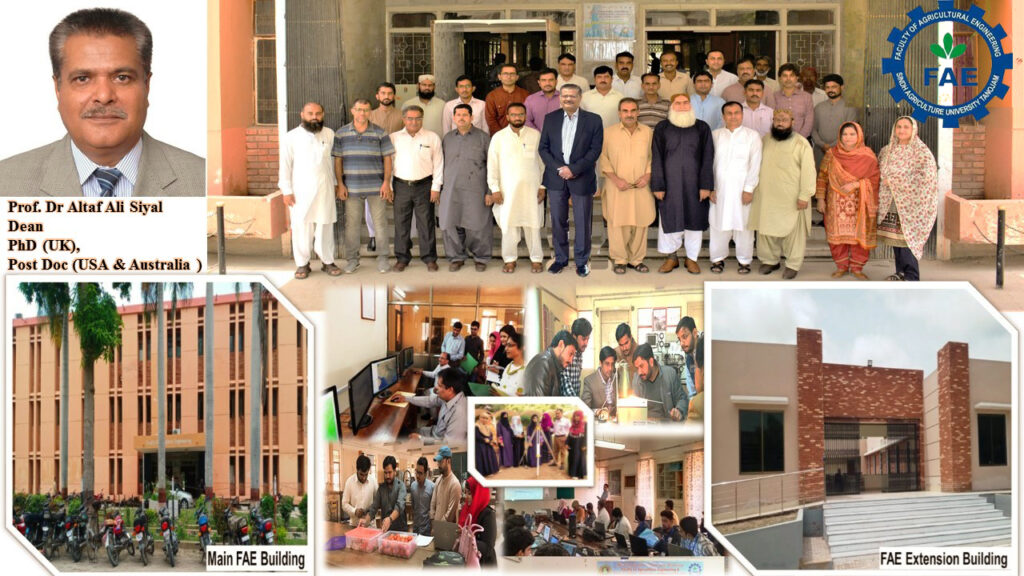 The Faculty of Agricultural Engineering is among the five faculties of Sindh Agriculture University Tandojam. Initially, it started as a Department of Agricultural Engineering of the defunct Sindh Agriculture College Tandojam in 1955. The department was upgraded into a full-fledged Faculty of Agricultural Engineering in 1977. Faculty has played a leading role in providing engineering solutions to agricultural problems and is devoted to meet the needs of people of Sindh in particular and Pakistan in general. Its primary goal is to take leading role in the promotion of technological changes and their management for sustainable agricultural development in the province of Sindh through high level education, research and outreach activities by integrating technology, planning and management. The dissemination of quality education, research and training with special emphasis on interdisciplinary interface among the technological and educational expertise is the main focus of the faculty.
At present, the faculty offers a four year B.E. (Agri) degree program. The program provides a fundamental understanding of the natural, basic and engineering sciences and their application to design devices and processes in any general area. A permutation of courses caters to the design and engineering aspects related to agriculture. The focus span starts with basic principles of engineering themes like irrigation systems, soil and water management, farm machinery, farm structures, environment, energy and resource management to ultramodern geographic information systems (GIS), remote sensing (RS), electronics and instrumentation applications related to the agriculture. M.E., M.Phil. and Ph.D. degree programs are also offered in various disciplines including irrigation and drainage, land and water management, farm machinery, energy and environment, and farm structures. Besides teaching, the faculty is actively engaged in extension and leading-edge research. The regular professional education and research activities are carried out in the six integral departments as under:
Irrigation and Drainage
Farm Power and Machinery
Land and Water Management
Farm Structures
Energy and Environment
Basic Engineering
The Faculty of Agricultural Engineering strives to attain excellence in teaching and research, where students are urged to excel in qualification and competency with basic and applied research as well as technology transfer and outreach activities including consultancy. The faculty has highly qualified teaching staff with well-equipped laboratories, workshop facilities, field experimental area, library, computer lab, auditorium and seminar hall. Graduates of the faculty are registered with Pakistan Engineering Council as Professional Engineers. The B.E. (Agri.) degree holders are eligible to be appointed as Professional Engineers in the engineering related fields. They are capable to undertake any professional engineering task in the field of Agricultural Engineering.
Program Educational Objectives (PEO'S)
PEO's of the program were prepared by the outcome Based Education (OBE) committee. During preparation of PEO's, the vision of the Institute and mission statements were kept in mind. The PEO's are prepared based on stakeholders' needs and linked with twelve program learning outcomes.
At the end it was confirmed that the PEOs are in line with vision and mission statements of the University and the Faculty of Agricultural Engineering.
.
The PEOs of BE (Agricultural Engineering) Program are as under
Explain knowledge of Agricultural Engineering based on analytical, scientific, and engineering problems.
Present knowledge of technical and management along with critical thinking, problem solving and effective communication
Application of knowledge on social, financial, and environment problems and contribute in ethical and responsible manner
Demonstrate skills to work independently as well in diverse teams for continual professional growth
The twelve graduate attributes provided by the PEC as per manual of Accreditation 2014 have been adopted by the Agricultural Engineering program as the Program Learning Outcomes (PLOs) for its Bachelor of Engineering (B.E.) Program. It is ensured that these PLOs are achieved by respective CLOs of the curriculum as assessed through both direct and indirect methods. The curriculum has also been updated and CLOs for each course is designed along with its difficulty level as per Blooms taxonomy i.e., cognitive, affective and psychrometer.
Remote Sensing and GIS Laboratory
Accurate estimation and forecasting of agriculture statistics is essential to a country's economy, food security and agricultural market development. Pakistan is in need of quality agricultural monitoring and real time statistics because so much of its economy as well as food security depends on a thriving agricultural sector. Thus, a Remote sensing (RS) and Geo-information Systems (GIS) laboratory was established in the faculty during 2014 in collaboration with Food and Agriculture Organization of the United Nations (FAO) andUnited States Department of Agriculture (USDA), under the FAO project, "Building Provincial Capacity in Pakistan for Crop Forecasting and Estimation.
The RS/GIS Laboratory provides an environment where faculty, staff and students work together to advance knowledge in the application of geospatial technologies in Agriculture, Environment, Ecosystem and Natural Resources Management. The mission of the Laboratory is to:
Integrate state-of-the-art remote sensing (RS), geographic information system (GIS), and global positioning (GPS) technologies with Agriculture Monitoring and Management to address relevant issues.
Transfer knowledge and skills to the undergraduate and postgraduate students, teaching faculty and farming community through education, outreach and training.
Conduct scientific research focused on agriculture monitoring, environmental issues and water management.
Make digital geospatial data of Sindh readily available for use in variety of related issues.