We are going to arrange an Event regarding National Idea Bank 2022 at Sindh Agriculture University, Tandojam, through platform of Sindh Zarai Science Society. This event is planned to do general awareness for Undergraduate students of B.Sc, BSIT, BE P-III & IV, DVM P-III, IV, V and Postgraduate Students of M.Sc, M.Phil and Ph.D scholars. In this regard ensure their presence in this event "How to submit a winning idea at NIB 2022" on Tuesday, 20th September, 2022 at 11:00 A.M at Senate Hall, SAU Tandojam.
Honourable Prof. Dr. Fateh Muhammad Mari, Worthy Vice Chancellor has vey kindly consented to be the Chief Guest on the occasion.
Mr. Hassan Syed, Prof. Dr. Arabella Bhutto and Prof. Dr. Arifa Bhutto will be the Guests Of Honour.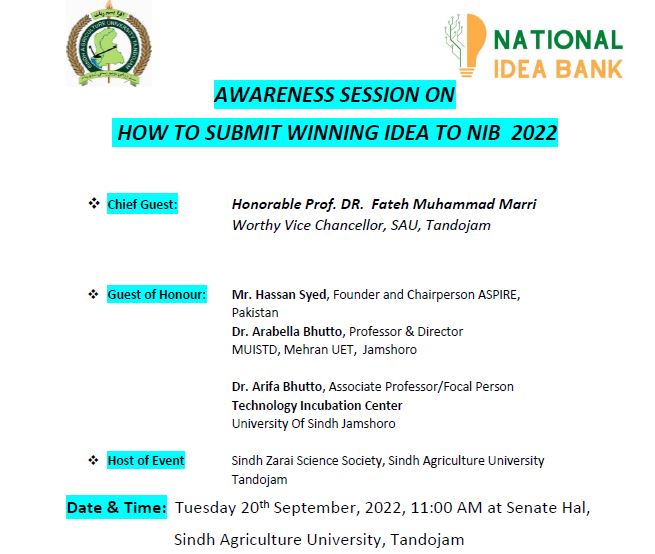 Regards,
Prof. Dr. Bhai Khan Solangi
Focal Person, National Idea Bank (NIB) 2022
SAU, Tandojam.
Prof. Dr. Shah Nawaz Mari
General Secretary
Sindh Zarai Science Society
SAU, Tandojam.